Standalone
Devtools is an easy but helpful LUA / JSON desk viewer for improvement functions, in addition to a 1 click on script restart.
It permits builders to view tables in a JSON format, kind and search by way of them with ease or view them as LUA tables.
Devtools embody a easy method to copy a desk so as to transfer it to some exterior textual content editor or work surroundings.
Check out the preview to see extra.
---
Simply trigger the event below, sending a LUA table in the first argument.
The UI will only open when you trigger the event.
This event can be placed in while loops and the displayed table will be updated (yes it will be high ms on resmon when in a loop but this is a developer resource for dev servers).
If you close the UI, it can only be reopened by triggering the event again.

You can disable the NUI focus by clicking middle mouse button while the UI is still open, and the UI will stay on your screen even while you are triggering the event.
From server to client
TriggerClientEvent('table', source, TABLE_HERE)

From client to client
TriggerEvent('table', TABLE_HERE)

---
The purpose of this feature is to be able to quickly restart scripts when developing and debugging. To save a script to restart you can use the chat command below to save your chosen script.
Part 1: Use the chat command /restart_script "script_name" to save the name of your chosen script in the restart_script.txt file and cache it in the server side. Now when you start your server or restart the script you can simply press the (numpad +) key to restart the script.
/restart_script <script name> – (Example /restart_script cd_garage)

Save the name of a script to use in the quick restart keypress.
The example command will save the resource "cd_garage".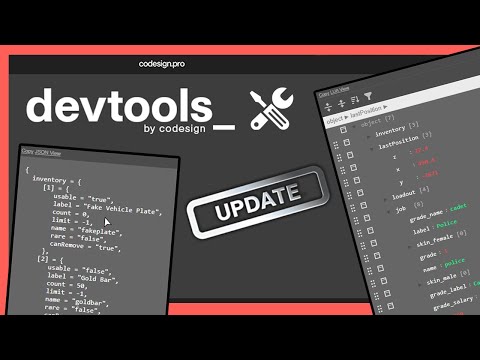 ---
---
---
We will not be providing any kind of installation / usage support for this resource due to the lack of time and resources to do so.
In case You find any bugs please report them either here or ( preferably ) by opening an issue on the GitHub repository.
As always, we are open to suggestions and ideas on ways we can expand this resource.
Expand

[FREE RELEASE] Easytime – Time and weather management by Codesign
[FREE RELEASE] Keymaster minigame by Codesign
[FREE RELEASE] Draw text UI
For builders by Codesign <3